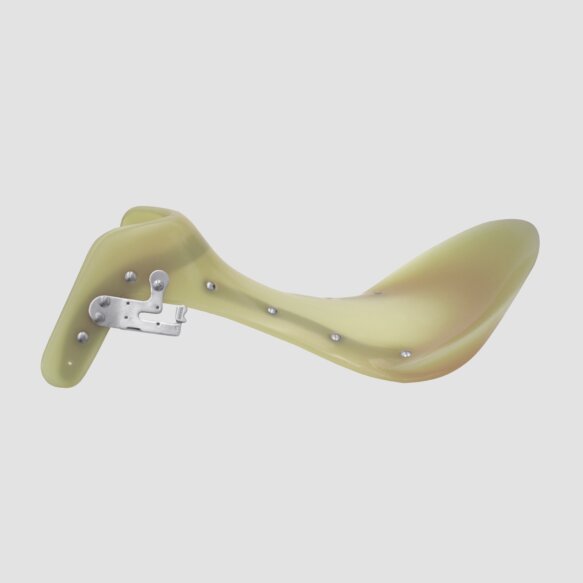 Passier


Synthetic Saddle Tree

The Passier synthetic saddle tree is made of an elastomere which was tested under space conditions. Its development and further refinement are a core element of Passier research. A saddle tree made of this synthetic material cannot break under normal conditions and can therefore respond successfully to the highest demands. Passier saddles with the synthetic saddle tree are available in sizes from 15.5" to 18", with a ten-year warranty on the saddle tree. As every saddle with a synthetic saddle tree is a unique product from a master saddler's hand made in Germany, it is possible to combine a saddle in one size with saddle flaps in another size.
Metal Bands
The very stable Passier metal band made of spring band steel provides highest stability as well as flexibility of the synthetic saddle tree.
Stirrup Bar
The stirrup bar of the Passier synthetic saddle tree is made of stainless steel. As the rider's safety comes first, this stainless steel bar also convinces through its extreme resistance to breakage and tearing with a strength of well over 600 Nm. This means that it is impossible for a Passier stirrup bar to break or tear out of the saddle tree under normal circumstances.
Gullet Plate
A wrought chrome-vanadium alloy is used for the Passier gullet plate which makes it extremely stable and has the considerable advantage that the width can always be adjusted again subsequently by an expert. This is why Passier saddles will always fit any horse's back perfectly – and can even be adjusted a number of times, if necessary. A further feature of the Passier gullet plate is the relatively short gullet plate sides which result in greater freedom for the shoulders and mean the horse can move better. In order to ensure optimum sturdiness and longevity riveting bolts are also used for the synthetic saddle tree.
Elastic Material
There is no stretch joint on the synthetic saddle tree since the synthetic materials used are so elastic that the material can adjust without any joint. This is how the synthetic saddle tree creates the perfect conditions for an optimum seat. On any horse.