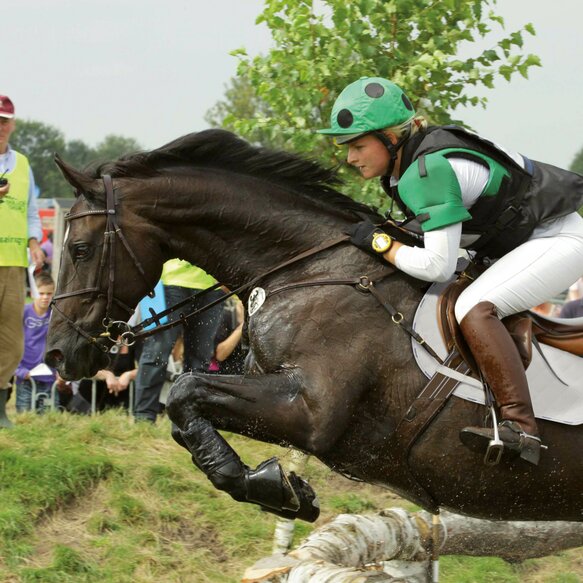 Julia Krajewski
Olympic team silver medalist and multiple winner of the German Championship, Julia Krajewski has been an official Passier partner since 2010.
Julia Krajewski has been an active equestrian since the age of of five and since 2012 she has been a member of the German Equipe in the Nations Cup. In 2016 she was appointed as coach of the German Eventing Juniors. In 2017 she won the individual CCI 4* at the Luhmühlen Eventing Horse Trials and in Houghton Hall she was part of the winning German Nations Cup Equipe. She was a team silver medalist at the Olympic Games in Rio de Janeiro. For her appearance at the Olympics she was also awarded the Silbernes Lorbeerblatt (Silver Laurel Leaf), the highest sports award in Germany.
In 2018 she won the German Professional Riders Championship by succeeding in the CIC 3* Marbach and also won the CCI 3* Bramham. In Luhmühlen she won the CIC 3*, securing her first German Championship win, repeating the success in 2019. In 2020, the year of the Corona pandemic, she succeeded in the long-distance 4* Eventing Competition at Strzegom in Poland. At the Tokyo 2020 Summer Olympics, she won the gold medal in the individuel eventing competition in August 2021.
Cross-country Julia Krajewski's equipment of choice are the Eventing Jumping and Cross-Country Saddle, the No Limits Snaffle Bridle, the Marcus Ehning Breastplate and the Leather Saddle Girth with Broadened Girth Center. In the dressage arena she puts her trust in the Corona II Dressage Saddle, the Fortuna Snaffle Bridle and the practical Neoprene Saddle Girth.
Instagram: julia_krajewski
Products used by Julia Krajewski